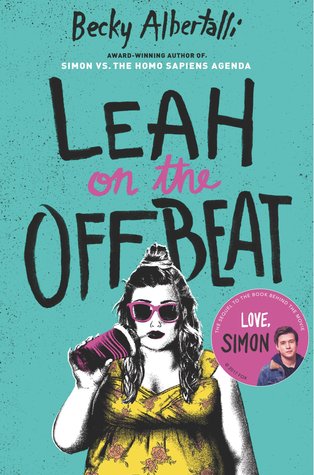 Leah on the Offbeat by Becky Albertalli (Creekwood #2) / ★★★★☆
Leah Burke is in her senior year of high school, and she's not very good with goodbyes, with interpreting the intentions of others, and dealing with her own problems most of the time. So when her friend group starts to rupture with fighting, breakups, and college decisions, Leah's anxiety runs high. Especially when she realizes she might be in love with one of them.
It's strange, because good-byes are a thing that I can understand intellectually, but they almost never feel real. Which makes it hard to brace for impact. I don't know how to miss people when they're standing right in front of me. 
I'm going to be honest, I wasn't the biggest fan of Leah Burke when I read Simon vs. the Homo Sapiens Agenda. But you know what? It's because Albertalli had us completely misdirected in where her head was at in that book, and she completely set us up for this sequel, which, I must stay, was a brilliant move.
I loved being in Leah's head in this book. She's such a confused, sarcastic, messy teenage girl. She is so, so confused, which made me confused, which I think is a feat, sometimes, because a lot of the time you can kind of tell what's really happening while the character doesn't. But Albertalli truly had me in the head of a confused bisexual girl, who isn't sure if she's got a crush on that boy, or maybe she's in love with that girl, and who likes her and who doesn't?
This book is a journey of Leah coming to terms with her feelings about others, about herself, about taking chances that may lead her to happiness. I specifically loved her development in overcoming her not her imperfections, but her inability to tolerate anything but perfection when it comes to herself. That was such a vital part of Leah's character, and it really made me feel for her.
One of my favorite aspects of this book was Leah's relationship with her mother, and her mother turned out to be one of my favorite characters.  It was sweet, and it was cringe-worthy in that way that made me reminisce my own dumb, stubborn moments with my mother as a teenager. And I loved Leah's friendships, especially – because I loved Simon vs. the Homo Sapiens Agenda with all my heart – Bram and Simon. They were so sweet and I loved getting to see them again.
While this book is, largely, romance, but it wasn't that aspect of the book that really hooked me. I liked it, don't get me wrong, but I wasn't keeling over by the fluttering of my own heart for Leah's romantic plotline. I'm not exactly sure what it was, but I do think that the ended up the progression of it a little, which left it feeling slightly unbalanced for me. Still, I liked it, even if this book could be a tad cheesy at times- but I'm not a teen anymore, so I won't fault it for that. But it was also genuinely funny- it had me smiling and laughing a whole lot. This book was cute and sweet and I liked it.
This book was an easy, enjoyable read, and a good one if you're in the mood for some quintessential YA teenage drama. It didn't drown me in cuteness quite like Simon did, but it was still pretty cute. If you liked Simon, and especially if you liked the characters, I'd definitely give this a read.