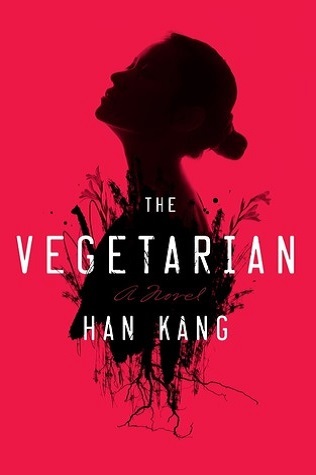 The Vegetarian by Han Kang / ★★★★★
Quite suddenly, Yeong-hye decides to give up meat in an effort to purge her mind of the past that haunts her.
The pain feels like a hole swallowing her up, a source of intense fear and yet, at the same time, a strange, quiet peace. 
I don't know what I was expecting going into this book, but I probably should have expected to be unsettling, as Hang Kang as proven her writing to be unsettling in the past in her book Human Acts. And yet, this is one of those books that you can't really prepare yourself for. First of all, don't go into this book expecting it to be about a vegetarian, because it's not. It's about a woman trying to gain control in a life that has not been kind to her, full of people who have not been kind to her. And they continue to be unkind, even less kind, after she gives up meat. And so: as this book was strangely repulsive, violently sexual, and deals with troubling mental health issues, I would not recommend it to everyone.
This book shows the ways in which humans compartmentalize, deal with, and succumb to violence, a theme that seems popular in Han Kang's writing. I found it terribly disturbing, terribly fascinating, and terribly sad, especially in the more quiet and subtle moments of Kang's writing. The way she portrayed the female characters in this book made my heart feel bruised.
This book isn't an easy read, and I don't think I even have grasped all of it, but it's a short book that hooked me from the start, and I read it fairly quickly. Han Kang's writing is delicate yet graphic, and other times dazzling. I loved her descriptions of nature, and of color. While disturbing, book was a very moving five star read for me to start off my year with.