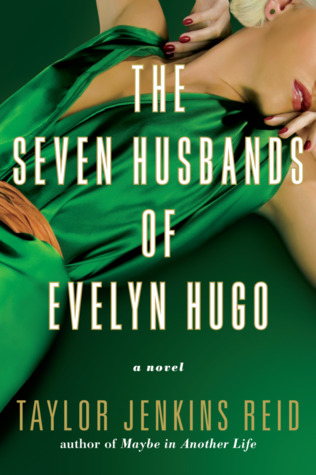 The Seven Husbands of Evelyn Hugo by Taylor Jenkins Reid / ★★★★★
Movie star Evelyn Hugo is finally ready to tell the story of her life, of her rise to fame and fortune, and of her seven marriages. She chooses unknown journalist Monique Grant to do the job, and no one is more surprised than Monique herself. As Evelyn's story unravels, however, the connection between them begins to unravel, in a story of tragedy and love.
Movie stars are movie stars are movie stars. Sure, we all fade after a while. We are human, full of flaws like anyone else. But we are the chosen ones because we are extraordinary.
In short, I loved this book. I was absolutely engaging from the start. Taylor Jenkins Reid is masterful in her skill of establishing mystery and intrigue, and holding the reader's attention with just right amount of tension. She established the questions I needed answered from this book in the very first chapter, and then unraveled Evelyn's story slowly, handing out bits of vital information at just the right moments. I kept telling myself "just one more chapter" at the end of every chapter, and ended up reading half the book in one sitting.
Evelyn was a fantastic protagonist. She was wonderfully mysterious from the start, sympathetic and fierce. If you are interested in old-timey Hollywood culture, you should definitely read this book. The Seven Husbands of Evelyn Hugo is full of characters who charmed me like the Hollywood celebrities they were, and then revealed their deep, nuanced flaws later, just when I cared enough for them to break my heart.
I didn't really expect Monique's side of the story to be as interesting as it ended up being. She's a young, unknown journalist who is recently divorced, and to be honest, the divorce aspect had me a little wary- but I liked how Monique learned from Evelyn as she heard her story, how it helped her grow as a character and establish what she needed from life and how to get it. And the twists her plot, and Evelyn's, took, were fantastically done, and ones I didn't always see coming.
And I loved the format of this book, split into sections titled for each of Evelyn's seven husbands. Each section takes us into that particular part of Evelyn's life, whether it largely surrounds that husband or not. It was so wonderfully, wonderfully done, and it really kept up my intrigue. From the beginning of the book, we know that she has seven husbands, we know what happens to some of them, and yet, with each new part of the book, I kept asking myself "what's going to happen with this guy??"
And this book made me CRY! It hit me right in the heart, because it's a story of fame, fortune, and love- unconventional love, and love strives to thrive under the most complicated of circumstances. The Seven Husbands of Evelyn Hugo is my favorite book I've read so far this year, it was fantastic.